What happens when a music LEGEND hits Brooklyn Bowl? Sheer. Madness.
On Tuesday, November 16, DJ Shadow came to Brooklyn Bowl and set the place on fire. On his first tour in over three years, Shadow packed the club with an anxious, sold-out crowd that itched to hear the illustrious DJ scratch his first-ever solo show in Brooklyn. A pioneer of the instrumental hip hop movement, DJ Shadow has long been revered for both his groundbreaking use of samples and his mindblowing live show. This show was no exception. Stationing himself inside his infamous "Shadowsphere" (a giant 3-D sphere), Shadow laid out a huge two hour set filled with hits from all three of his chart-topping albums, in addition to long-awaited new music. As Shadow spun, his Shadowsphere played host to mind-bending visual projections of everything from the streets of San Francisco to a close-up of a bowling ball rolling down a lane (which we found especially appropriate). And every so often, he'd spin the orb around so that the packed room could get a glimpse at the man inside the sphere in action.
Were you there? Post your pictures of the night to our FLICKR group and your videos to our Vimeo group. Show the world what it's like to get down at Brooklyn Bowl with the one and only DJ Shadow. If you missed it this time around, check out the links below for recaps, photos and videos.
BROOK BOBBINS – PHOTOS
URB – RECAP AND VIDEO
SELF-TITLED – REVIEW AND VIDEO
BOWERY PRESENTS' THE HOUSE LIST – PHOTOS
BLAH BLAH BLOG – PHOTOS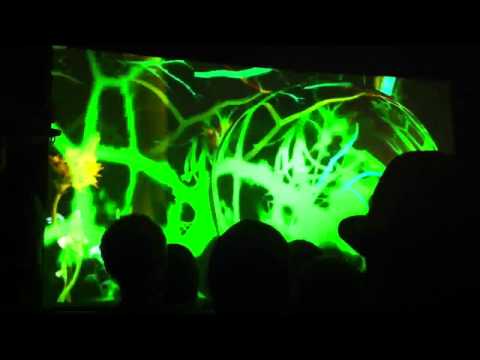 Tags: bowling, brooklyn bowl, dj shadow, hip hop, instrumental, projection, shadowsphere, sold out