// GARBAGE IN THE GYRE:
AN INSPIRED CLEANUP EFFORT
BY A LOCAL ARTIST //
The North Pacific Gyre is an approximated 20 million square kilometer span of ocean between Asia and California, which has been harboring a substantial amount of manmade plastic.  Often referred to as the "Plastic Vortex" or "Great Pacific Garbage Patch", the gyre's location amidst currents has resulted in a massive congregation of plastic debris, which has contributed to a toxin release and the considerable deaths of various sea life.
Research has shown that over 267 species have been effected either directly by ingesting the plastic, mistaking it for food, or being trapped or poisoned by it. Plastic emits toxic chemicals that are ultimately ingested by fish, which are in turn, ingested by humans.
Although there is no simple, comprehensive solution to the tragic "Plastic Vortex" of the North Pacific Gyre, Brooklyn-based artist, Aurora Robson, has recently contributed to the efforts. As part of The Waimea Ocean Film Festival's commitment to gain awareness about ocean related pollutants and the utilization of resources to promote change, they've invited Robson to make use of the refuse. In an attempt to realize the project, WOFF teamed up with the Hawaii Wildlife Fund who donated plastic debris that had been collected on the shores of The Big Island in one of their bi-monthly acquisitions. The found objects, ranging in size from granular sand-like particles to large vessels, acted as the sole medium of the piece.
Kamilo, a stunning, gradient-colored aerial sculpture, was the result. Conceptually taking the form of a thriving fish, Kamilo's organic appearance and aquatic color palate radiate a hopeful glow. "Plastic in the ocean is everyone's problem and we are all complicit. There is no such thing as disposable. I hope that my work inspires people to modify their behavior by re-evaluating what they consume, what they value," Robson said of the piece, generously donating 100% of the proceeds of its sale to clean up efforts.
Captain Charles Moore, who first discovered the Great Pacific Garbage Patch, speaks  of the growing problem of plastic waste in our seas…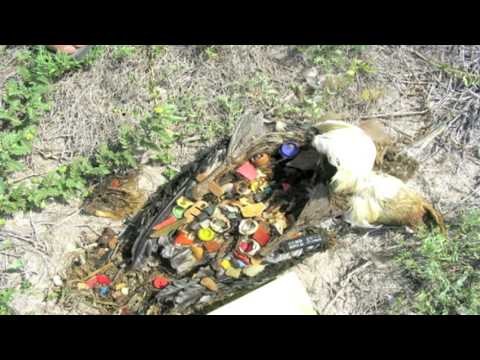 You can contribute to the effort by:
-Choosing reusable metal or glass bottles for beverages.
-Bringing eco-friendly recyclable totes when shopping or buying groceries.
-Properly recycling outdated or unwanted technology.
-Consciously limiting your purchases of plastic or plastic packaged products.
-Donating to a clean-up organization like the Environmental Cleanup Coalition.
*****************************************************************************
// OPEN SPACE ALLIANCE
FOR NORTH BROOKLYN //
North Brooklyn's Open Space Alliance, often referred as OSA, is an organization founded in 2003 with the objective to better and expand local parks. Established on the model of other environmentally lucrative conservancies, OSA is passionate about enriching bleak and abandoned spaces and realizing their potential for being something great.
OSA is partnered with New York's Parks and Recreation department and focuses on parks represented by Community Board 1. Funding is made possible by the generous donations of board members and numerous fundraising efforts. OSA is also part of the green movement and strives to beautify and renew areas of nature where it is needed most, in the midst of New York City.
OSA has been behind many of the remarkable renovations recently achieved in Brooklyn neighborhoods including:
• McCarren Park Pool is being outfitted to offer summer swimming and capabilities to offer winter ice skating.
• The opening of Transmitter Park along the waterfront (Greenpoint Ave. and the East River) and the creation of garden space, a pier as an ideal fishing location and a playground for children.
• The construction of a public skatepark in McCarren.
• A dogrun in Sternberg Park is in the works and new fencing has been provided at the McGolrick Park dogrun. These spaces offer large, enclosed areas for dogs to play and exercise sans leash. All plants are animal safe.
• Tree planting and visually appealing gardening in neighborhoods by subsidized housing, McCarren, Cooper and McGolrick parks to sponsor themes of eco-friendliness and mid-city nature augmentation.
***
We asked OSA's Stephanie Thayer to answer a few questions for us.
Stephanie Thayer is the Executive Director of the Open Space Alliance for North Brooklyn (OSA) and the Administrator for North Brooklyn Parks for NYC Parks Department.  OSA is a non-profit that raises funds and works with our community, elected officials and the NYC Parks Department, to improve existing parks and help create new parks in North Brooklyn.
Brooklyn Bowl: What triggered you to want to begin renewing the local parks of Brooklyn? Was there a specific epiphany moment?
Stephanie Thayer: I live in the neighborhood and like many local activists, leading up to our 2005 rezoning I was fighting certain development problems, and the city for community benefits. After the dust settled, I wanted to work on something more harmonious and peaceful: flowers, trees, green grass/clean rivers/music in fresh air, children in playgrounds, puppies at the dogrun….  A Board member of OSA chuckled at my idealism and welcomed me to OSA.
BB: What project was your most rewarding if any in particular?
ST: The McCarren Park Pool renovations, for swimming and a year round recreation center, on target to open in 2012!  It is especially rewarding as it fulfills the dreams held by many long-time residents who saw the grand structure neglected for decades.  More recently, of course, McCarren Pool became beloved by a new generation as an interim concert venue. After a great deal of negotiating, OSA relocated the concerts to the Williamsburg Waterfront as the Pool underwent reconstruction. I am pleased that together OSA and Parks satisfied both desires.
BB: Could you let us in on any upcoming projects in 2011?
ST: We are going to be doing major repairs to the pathways in McCarren in the coming year.  We'll go into community planning for $2MM+ in renovations for Cooper Park. At Rodney Park Center we will contract to replace cracked asphalt with green gardens. We are continuing construction at Bushwick Inlet Park for shoreline access, playgrounds, an award winning "green" building, and at Transmitter Park for a pier, bird gardens and more. OSA is opening a "portable park" on Java waterfront, with GWAPP.  OSA is  "demapping' a portion of Union Avenue to obtain the legal right to expand McCarren by converting roadway into parkland. Mayor Bloomberg, Assemblyman Joe Lentol, Borough President Marty Markowitz, and Councilmembers Diana Reyna and Steve Levin made very significant funding allocations, in a very difficult financial time, for these parks improvements. The investment we are making in greening North Brooklyn is historic and sweepingly transformative.
BB: Are there any entertainment events in the works for spring and summer of 2011 at any of the spaces?
ST: Of course, OSA will continue our critically acclaimed concerts at the Williamsburg Waterfront in 2011, which raise funds for parks improvements.  Less well known is that we do a lot of other programming.  Some favorites in 2010 included the professional BMX event (bikers flipping over the Halloween hearse) at Barge Park, the free skateboard clinics for kids we did with KCDC, yoga in McCarren.  We were a partner in the Bring to Light arts festival – light installations and sculptures against the night sky in American Playground and adjacent roads.  We support MovieHouse in bringing local, independent films to the handball courts of Sternberg.  We've worked with local theater groups using playground equipment as sets – I'd like to see dance in our parks in the coming summer. Some new events in discussion include: poetry in our parks, a fashion show by local designers… We have such a creative and dynamic community and I'm delighted to have it all showcased in our parks. We expect to expand our arts and children's programming in the coming year, while continuing shows on the Williamsburg Waterfront.
BB: What projects are you most excited about in the future?
ST: Exxon committed to clean up the decades old oil spill (2nd largest in history) in Newtown Creek, much thanks to Riverkeeper, Newton Creek Monitoring Committee (NCMC) and Newtown Creek Alliance.  I am excited about the settlement's $19.5MM in environmental benefits for Greenpoint and seeing the funding applied to create and improve our parks and waterfront access.
BB: Does OSA have any upcoming fund-raising events?
ST: Thanks for asking. It is a challenging time for city and state budgets so OSA's fundraising is that much more crucial in supplementing parks maintenance. We are planning for a fundraising event in the spring and always appreciate help, or people can contribute at www.osanb.org.  The children of PS 132 collected their pennies to create a butterfly garden at Cooper Park, an inspiring example for all.
BB: What is the best way for people to help get involved with the organization?
ST: Volunteer or donate at www.osanb,org; connect with with our many events via Facebook and Twitter become involved in our local community to make your voice heard.  Whether it's getting together a group of friends to rake leaves, hosting an OSA friend-raising house party, or applying your professional skills – whatever talent or time you have, there's a park in our district where it is needed and will be will appreciated.
BB: Do you have any favorite local organizations or business in Brooklyn that inspire OSA?
ST: We like the spirit of the independent local businesses, old-timers and newcomers, that built this community.  We appreciate businesses, like Brooklyn Bowl, that help OSA help our parks. There are too many to list that have contributed financially, provided food for our fundraisers, products to our raffles, employee volunteer days in our parks, and other support. The Jungle, for example, very generously donated a lot of plants to our parks (among other things, see the new dogwoods at Mt. Carmel Triangle in the spring).  Artists & Fleas has been a particularly supportive partner for our parks.
Some of the older nonprofits that saved our waterfront from being a garbage dump, created community gardens, and in other ways improved our neighborhood during the rough times: NAG, Los Sures, St, Nick's… OSA has a number of groups that are part of our Community Committee that made significant improvements this year for us all to enjoy, some examples:  McCarren Tennis gets much love for taking the lead to get our courts resurfaced; North Brooklyn Runners, Park Moms, Friends of Marcy planted flower bulbs for us all to enjoy come spring… Our neighborhood has a strong "DIY" or do it yourself ethic, and it's great seeing it channeled into creating better North Brooklyn parks.  Join us at www.osanb.org.
OSA is another wonderful example of the inspiring local businesses and organizations in our neighborhood. You can support the efforts by volunteering or by donating to the project and learning more, here.
*****************************************************************************
// BLUE RIBBON
BIKE GIVEAWAY RECAP //
On September 19, 2010, Brooklyn Brewery hosted another wildly successful Local X Local event at Brooklyn Bowl. The event boasted four-dollar Brooklyn Brewery lagers, free chips and salsa from The Brooklyn Salsa Company and a mind-blowing Maluca performance.
The theme tying the event together was a truly spectacular Blue Ribbon MS charity bike giveaway, put on by Blue Ribbon's co-founders, the Bromberg Brothers. One hundred sixty new Cannondale Quick bicycles were donated to "top tier" employees who showed interest in participating in the upcoming National MS Society's Bike MS NYC Event. The benefits that the bicycles provide to the recipients as well as to the Blue Ribbon family will encourage healthier and greener living while simultaneously raising money for a great cause.
Sponsoring this event, including assistance, safety tips and associated gear were local companies including the NYC DOT, Bike New York, NYC Bikes, Chrome Bags, Cycling Sports Group and The Bike Express/52 Division.
During a time when it's nearly become second nature to choose green practices and adopt healthier habits, Blue Ribbon's Eric and Bruce Bromberg have not only made a conscious step towards change, but provided their employees the means to embrace that change within their own lives, as well.  These new Cannondale Quicks will be the inception of a positive example to other local businesses as well as means of exercise, transportation and recreation.
Bicycling in New York has recently become the source of serious attention. From blogs solely based on bikes and bike culture, to not being able to walk a block without catching one zip by out of the corner of your eye, biking is everywhere, and for good reason. As a paramount form of non-polluting transportation, bicycles will save you from the ever-ascending MTA train fare while doing something good for your body.
Brooklyn Bowl, home to one of nine Blue Ribbon restaurants in New York City, celebrates the Bromberg brothers for their generosity and step in a greener direction. We also welcome all bicyclists to ride on over and lock-up to one of our 30+ capacity bike racks.
Find out more about The National MS Society's Bike NYC Event and how you can contribute in the future.
*****************************************************************************
Brooklyn Bowl is continuing its Our World Campaign this month with a Brooklyn-based fund drive that celebrates summer, youth and special opportunities.
Camp Brooklyn works to send kids from the borough to sleep away camps in the tri-state area. Through generous donations, camperships are awarded to deserving children ages 7-16 to attend one of the many outdoor camps in the surrounding metropolitan area.  Awarding children from such an urban environment as Brooklyn the opportunity to enjoy the great outdoors, wildlife, and the starry night sky can change their lives forever. Now in its 8th year, Camp Brooklyn sent 403 children from the borough to great summer camps this summer.
Visit Brooklyn Bowl on Wednesday, July 28th for a Camp Brooklyn benefit performance presented by RXP with Locksley. Admission is free and donations will be accepted on behalf of Camp Brooklyn. More Information on this event can be found here.
To make a contribution you can call (718) 802-CAMP or visit  http://www.campbrooklyn.org/ and on Facebook.
*****************************************************************************
// OUR WORLD STARTS IN GREENPOINT //
Our World is a place to explore the problems and much-needed solutions facing this planet. Brooklyn Bowl will continue its dedication to sustainability and a green Earth by highlighting worthy causes each month.
In April 2010, a devastating oil spill wrecked the Gulf of Mexico. Just a month later, nearly 200,000 tons worth of crude oil now sit in Gulf waters. As it comes closer and closer to shore, we are reminded of our own waterways here in Brooklyn.
Did you know that the spill in the Gulf is not the first time big oil companies have devastated the ecosystems in which they exploit for oil and profits? Despite the large volume of oil left untended in the Gulf, there's a body of water even more so contaminated just a few miles from our front door. Newtown Creek in Greenpoint is little known yet has a long history of pollution dating back to the late 19th century. The creek waters are filled with anywhere from 17 to 30 million gallons of oil, and untold amounts of additional pollutants from the factories that line its shore.
While in future months to come we will expand Our World to larger organizations nationwide and internationally, we believe that the dire situation so close to home is in need of some attention.
If you would like to get involved with some of the organizations heading up the fight for clean waterways, you can contact these great organizations and get involved in the neighborhood:

NYC DEPT. OF ENVIRONMENTAL PROTECTION:This government Agency recently opened a visitors center on the Newtown Creek shore in Greenpoint.

HUDSON RIVER KEEPER: This organization hosts events for members and volunteers to benefit the water quality of the Hudson River and its tributaries.
NEWTOWN CREEK ALLIANCE: A local organization which is taking legal action towards the Big Oil Co's.
//
The Leonard Lopate Show: A WNYC Broadcast features information about how the Creek is fairing today.

Tags: alliance, bicycle giveaway, big, Blue Ribbon, BP, brooklyn, camp brooklyn, cannondale, Charity, department of environmental protection, exxon, Greenpoint, gulf of mexico, hudson river, local x local, National MS Society Bike MS NYC, newtown creek, nyc, Oil, Our World, river keeper